When designing your outdoor spaces, a major component to consider is the furniture for your space. You want your furniture to be comfortable, durable and stylish, and you don't want it to break the bank! We're here with our advice on choosing outdoor furniture, from material to style and beyond.
Choosing your furniture material
Aluminum
Aluminum is a great option for lighter-weight, durable furniture. As a bonus, it won't rust, just make sure the furniture you pick has rust-proof hardware and UV coating.
Wrought-iron
Wrought-iron is heavy and durable, and is always a classic choice for outdoor furniture. The material means that wind won't knock over your chairs or tables – just be aware that the paint may need touching up from time-to-time!
Plastic
Plastic and synthetic blends are the ideal choice if you're looking for an affordable choice that's easy to keep clean. Plastic and synthetic blends can range in styles too, from imitation wood and wicker to the more standard plastic style.
Natural Wood
Outdoor wood furniture is trickier, but it definitely makes a statement. Make sure to choose a hardy, dense wood, like cedar or teak, and waterproof them appropriately. The wood should also be oiled regularly to keep it looking nice.
Wicker
Always a classic, wicker furniture is sturdy, weather resistant, and looks great too! Be aware that it can be a bit spendy if you're buying high-quality wicker pieces.
Our favorite ways to style each type of furniture
We encourage you to go beyond the standard sofa, chairs and table, and create an outdoor living space! An outdoor rug, throw pillows and planters take your space from simple to photo-ready – or create an outdoor dining area for eating al fresco! Just like with indoor furniture, outdoor furniture comes in a wide variety of styles, from classic to modern to farmhouse, and your outdoor decor should reflect your style just as much as your interior decor!
Aluminum
A lightweight aluminum frame and clean, simple cushions are a great choice for a modern look that won't break the bank.
Wrought-Iron
Wrought-iron brings a classic look, especially paired with neutral cushions.
Plastic
This plastic patio set looks like wicker, with the bonus of being cheaper and easy to clean. It's a traditional style and easy choice for a patio or deck.
Wood
Wood is the obvious choice for a farmhouse or modern farmhouse vibe, and we love the warmth it brings, especially paired with throw pillows and blankets, outdoor rugs and patio lights.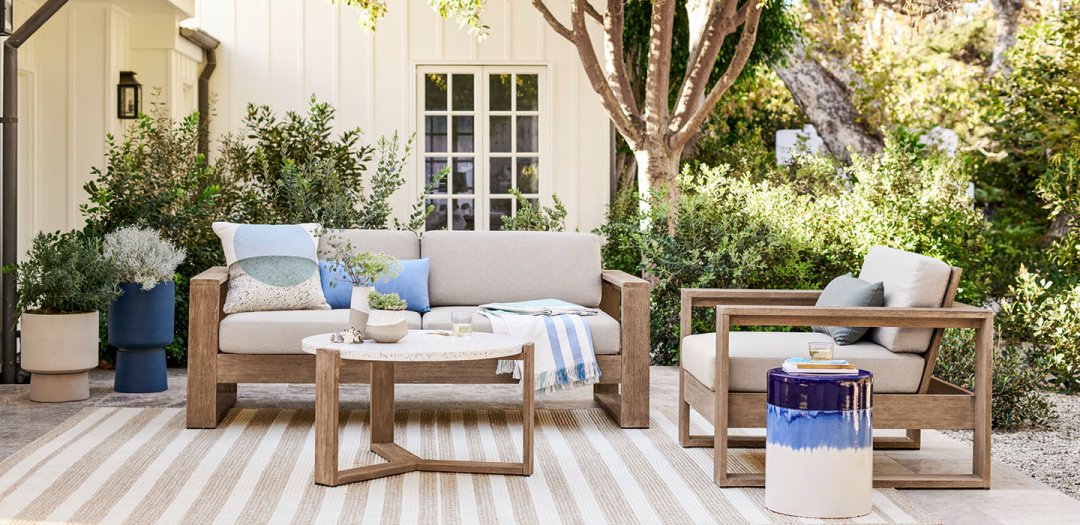 Tips for selecting furniture
Make sure you think through your space and its needs before purchasing outdoor furniture. If it's a small space, choose pieces that can multipurpose, such as an ottoman that can double as storage and an extra seat. Try the furniture before you buy it, and make a plan for maintenance throughout the season and storage for the cold-weather months. With a bit of planning, you can create an outdoor oasis that's beautiful and lasts for years to come.
Especially this summer in quarantine, creating an outdoor space as a haven is more essential than ever. The choices are endless, but having the information about all the major styles can help you narrow it down! Tell us, what kind of outdoor furniture is your favorite? Make sure to follow us on Instagram @AlmaHomes for more daily inspiration, too!