Last fall, we wrote a post all about home design styles, and we're diving in a bit deeper into each of them today! We've compiled a list of some of the biggest trends and decor items for each of the most popular design styles, in case you're looking for a starting point!
Industrial
Think mixed materials – metal and wood, especially (and bonus points for brick walls, concrete, etc.!) One of the major ways to achieve this look is with lighting. Metal light fixtures look sleek and modern, and contrast beautifully with rustic, warm wood. Those same characteristics translate well to furniture, too. Look for mixed materials and elements like metal pipes, wheels and bolts for extra character.
Key items to incorporate: industrial lighting and furniture!
Scandinavian
This minimal, natural, bright style is the opposite of cluttered, but there are still key elements and items you can include in your home to achieve this style! Keep things light and bright – not too many window coverings and lots of lighting is key! A blend of wood, metal, leather and warm textiles are key to this design style (remember our post about hygge?), as well as greenery!
Key items to incorporate: greenery, neutrals and textiles!
Bohemian
The fun thing about an eclectic, bohemian style is that almost anything goes. Mix-and-matching is part of the charm! A good rule of thumb to nail the bohemian vibe is to start simple, and then add on. You want your space to look warm and interesting, not cluttered.
Key items to incorporate: rugs (think colorful and bold, or neutral colored with fun patterns), plants (real or fake!) and interesting texture (rattan furniture, macrame decor, throw pillows and poufs)
Mid-century Modern
Another case of mix-and-match opportunities galore! Find a few key vintage pieces to mix in with your modern furniture, and add some fun pops of color. Mid-century items are identified by vibrant colors (ranging from muted pastels to earthy tones to bright pops), peg leg furniture design, and sleek styles.
Key items to incorporate: Don't go too crazy – pick a couple accent pieces of furniture, like a fun colored couch, mid-century banquet or table, and then fill in the rest of the room with simple, modern design.
Farmhouse (or modern farmhouse)
Traditional farmhouse is fading out (as most huge trends do), but modern farmhouse is still very much a trend! Rather than the cluttered antique vibe of the farmhouse style, think white, black and wood, with natural elements and just the right amount of farmhouse flair.
Key items to incorporate: wood accents, open shelving, and simple, clean decor.
Coastal
Coastal style is largely all about color, pattern and texture. Start with coastal color schemes – think blues, greens, teal and cream. No need to go overboard, but some blue accents will definitely help achieve the coastal vibe. Including subtle stripes and light linen texture will help lend to a bright, beachy vibe without feeling tacky.
Key items to incorporate: natural wood, shiplap or planked walls, light colored linens, blue and natural accents.
Modern
One of our favorites, modern style is all about clean, simple, neutral design (which is the perfect black slate for your decor, by the way!) One of our favorite modern trends is the use of contrast in decor. Mixing clean, white backgrounds with pops of black or navy blue results in an eye-popping interior.
Key items to incorporate: Keep decorations minimal! Think a neutral backdrop with leather accents, greenery and clean, simple wall decor.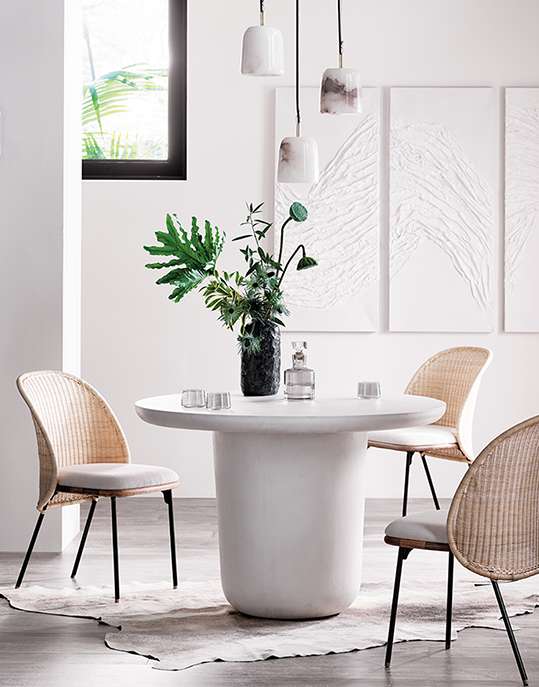 We want to know, what's your preferred design style? What decor items are must-haves for your home? Do you stick with one design style, or combine a few? Comment below and let us know on Instagram, too, at @AlmaHomes!